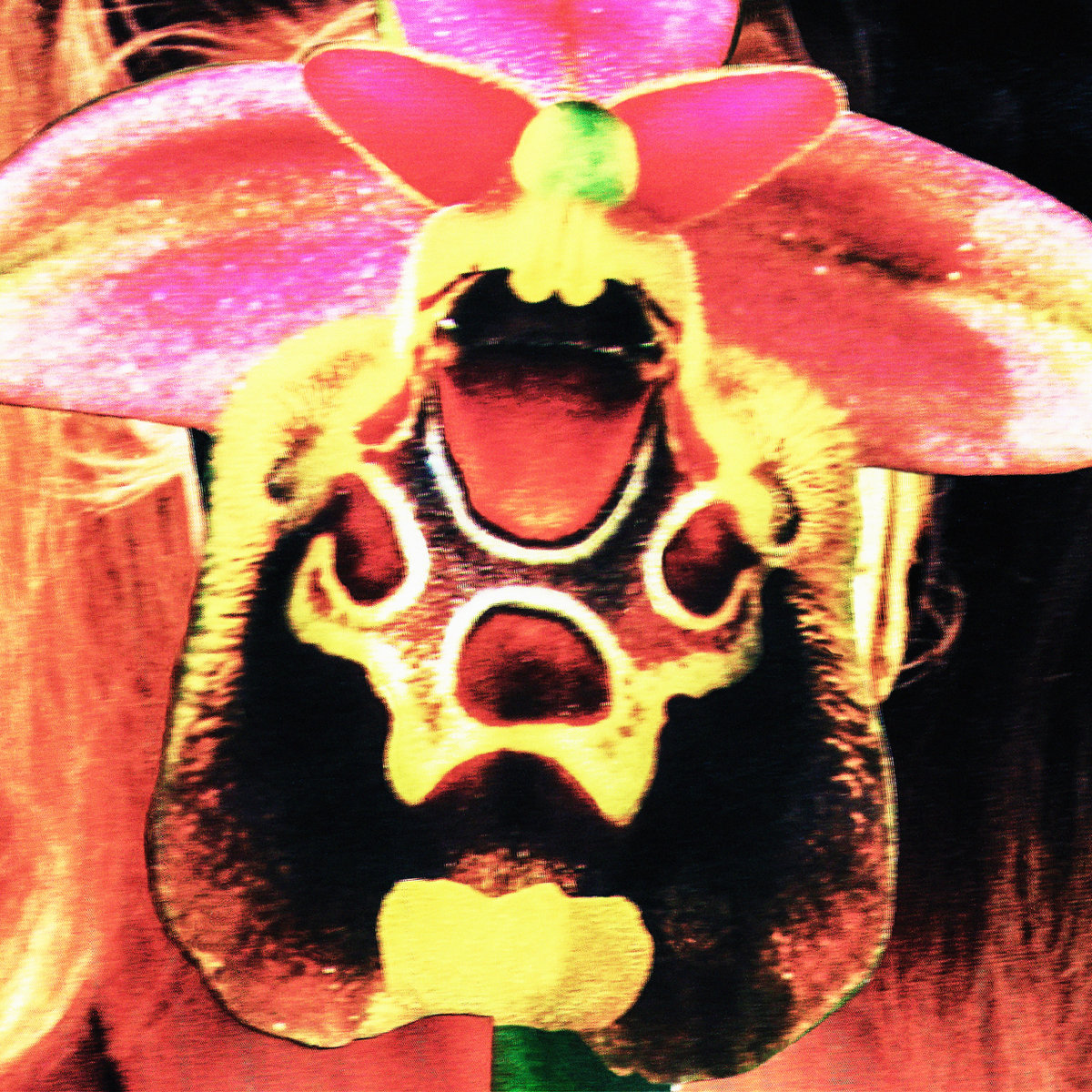 Mami Wata – s/t (Wild Silence)
I saw this duo in action at a Boat-Ting gig a few years ago, theirs was one of the best performances I ever saw at that waterborne improv night.
*Digression begins* Boat-Ting is still going and is back from its usual summer break in September. The amazing N.E.W. are playing if you'd like to have any improv-is-just-messing-about delusions dispelled. Keep the boat afloat *Digression ends*
The sound of Sharon Gal (vocals/electonics/recordings) and Andie Brown's (glass/electronics) deep spookiness must still be sloshing about in my skull as the shore lapping sounds at the start of this album acted as an immediate memory multiplier, a conjuration. The sea became the Thames became the sea and I was back in their sinister aural grip. Wandering the beach, Sharon Gal, who I picture solarized like the flower on the cover or David Bowie in the Ashes to Ashes video, is rattling dry and brittle percussion  pieces (bird skulls, smashed shells, pebbles) and squawking a thin, out-of-breath scream. The electronic manipulation of her voice stretches her throat into meter-long ribbed tubing capable of plunging bass purrs and sudden tape reversals. Field recordings of passing planes and seagulls overlay a skein of normality over the frightening surreal decrepitude of the created sounds.
And that's just the opener. 'Two' does nothing to comfort after the nightmarish introduction. Music box and arco bass rumble. High whines. Wordless hissing. Gal's voice yanking out of her like a Victorian image of ectoplasmic ejection. Alien and viscerally disturbing, the bits where her voice goes away are the worst; you're left wondering what she's up to; for your nerves, her audio-self is best left in view as much as possible. Brown's accompanying rubbed-glass tones drift like dust motes in slanted grey light. 'After Callas', the next track, continues in a similar vein; the wobbling bass murk and sliding circling drones slowly swelling and flattening, like a Stars of the Lid piece hoovered of beatific celestial contemplation. Mama Wata's night sky is one you'd turn your eyes and hurry home from.  Pity Brian Cox staring in bewildered terror at these strange constellations: The Worm, The Hexed Twigs, The Conjoined Foals.
Sharon Gal is a commanding presence throughout, her vocals frightening but not dominating. The non-vocal sounds are every bit as nerve-poking. Andie Brown's music is a fertile soil for her musical partner, working with variously sized glasses, filled with water, resonated and manipulated with electronics, her work as These Feathers Have Plumes has always been mysterious: troubling and calming in equal measures; her last release, 'Return', is magical.
Mama Wata's final track, 'Fata Morgana', closes the album in sharply contrasting peace. Beautiful drones and sighs gently billow like the membranous folds of a jellyfish. Fingers gliding over glass rims like orbiting sighs, arcs becoming increasingly cross-hatched like chrono-photographed bird-flights, smeared into ribbons.
Mama Wata, an ascent from darkness to light. Buy it here.