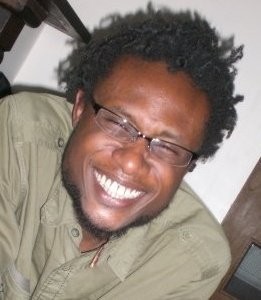 Corey Mwamba is a improvising musician playing the vibraphone in a group with Dave Kane and Joshua Blackmore.  They released an album 'Don't Overthink It' earlier this year.  Here are Corey's thoughts on 2013.



Here are ten things I heard that I liked this year, in no particular
order. Most of them are live, although some of those were also recorded.

1. Glasgow Improvisers Orchestra: I was invited up to Glasgow with the
group I'm in, Sonsale. Hearing (and seeing) a large ensemble where you
don't notice its weight – where you hear considered improvisiation –
where there is a real sense of joy in the music making – these things
are rare: and GIO should be celebrated for that.

2. Lauren Kinsella: I was at Marsden with Batteries and caught some of
Laura Jurd's set, which was great; but I was blown away by this
vocalist, who moved between crystalline tones and guttural sounds, and
everything in-between.

3. Rachel Musson/Liam Noble/Mark Sanders: I really like this group and
its interaction. I – and indeed, anyone with ears – could talk about
how good Mark is for ages. It's great for me to hear Liam in a
different context than I'm used to; when I heard them live he was on
piano, but I'm very much looking forward to hearing him play synths.
And Rachel is one of the foremost improvisers on the tenor saxophone in
this country, if not further.

4. Louis Moholo and Alex Hawkins: I heard them in Newcastle: IMMENSE.
Is that not enough of a description? No? That's unfortunate, because
that's what the gig was. Every so often a gig is so big and
awe-inspiring that you can only use one word. It was that good.

5. Maggie Nicholls + Marilyn Crispell: I heard this the same weekend I
heard GIO. This was also IMMENSE: a lesson in joyful improvisation by
two masters of the craft.

6. Black Top + Walt Shaw: Black Top you'll know; but with Walt they
went another place. Walt's an artist and percussionist; and the way he
worked and interacted the sound-world that Orphy Robinson, Pat Thomas
and Cleveland Watkiss were creating was highly sensitive and dramatic,
making the music all that much better. And it was already extremely
good at the start of things!

7. Less and More by Alex Bonney & Dave Kane: this is a fantastic album,
that I have re-visited often. There's always a sense of narrative
within each of the small pieces which is compelling – pure music.

8. Alex Ward: I heard him at Lumen in London, doing an awe-inspiring
solo set. Very few people playing the clarinet with such range – but
I'm guessing (hoping?) we all knew that. What was mind-blowing was the
fine structure of the set – it was fantastically balanced, and he used
the space of the church beautifully.

9. Bennett, Cole & Fairclough Trio: this is something I heard on
Soundcloud, and I'd like to hear them live. Laura is one of the most
sensitive pianists around at the moment: she's a peerless accompanist
and it's great to hear her more up front in a trio setting, especially
with Seth and Pete – which is a great rhythm team pairing.

10. Ntshuks Bonga: you might think this is cheating, as I heard him
whilst on a gig and a session with him and Andy Champion, but look:
Ntshuks Bonga is one of the masters of the saxophone in improvised
music. Ntshuks is able to generate primal, otherworldly stories with
his sound. There are so few people on the instrument doing what he's
doing, and even fewer doing it as well. It's disturbing to think that
hardly anyone I speak to knows who he is, and this really has to change.



Find out more about Corey here, and on his Twitter and Facebook pages.